PADS4 tips

Why should you use PADS4 for your airport signage?
As experts in data-driven signage we have shared some PADS4 tips for smart airport signage lately on our social media channels. Here is a selection of our favorite PADS4 FIDS tips.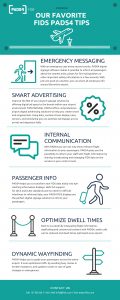 Tip 1: With an emergency case every second counts. PADS4 digital signage software makes it possible to inform all passengers about the nearest exits, places for fire extinguishers or other important safety information in a few seconds. With just one push on a button, you can share all necessary info around the entire airport.
Tip 2: Improve the ROI of your airport signage solution by offering digital ad space to the brands within your airport environment FIDS PADS4tip. PADS4 offers comprehensive airport digital advertising solutions to help you create smart and targeted ads. Using data, context-driven display rules, sensors, and scheduling you can optimize ad displays across arrival and departure halls.
Tip 3: With PADS4 you can not only show relevant flight information to your passengers. PADS4 gives you the possibility to inform your staff with flight information by sharing, broadcasting and managing FIDS data on the screens in your control room.
Tip 4: PADS4 helps you to transform raw FIDS data easily into eye-catching information displays. With full support for IATA and ICAO standards and no need for difficult interfaces to reformat data, your PADS4 FIDS displays are the perfect digital signage solution to inform your passengers.
Tip 5: Next to successfully integrating flight information, wayfinding and commercial content with PADS4, audio calls can be reduced and dwell times optimized at an airport. 
Tip 6: PADS4 helps you to guide your passengers across the entire airport. It even optimizes traffic by avoiding busy routes or broken escalators, and updates routes in case of gate changes or emergencies. 
Interested in PADS4 for your smart airport signage? Request your free demo.