Four ways to deliver safety with Digital Signage in airports
The COVID-19 pandemic has changed, perhaps for good, how people travel. 2020 has been one of the most difficult years on record for many of us. As people begin their travels again, airports and airlines need to take sufficient safety precautions to create a safe environment. This doesn't mean that the COVID-19 threat disappeared. It will be around until there are no cases left, or until there is an effective vaccine. Until then, it is crucial to establish strict standards of safety. Standards where social distancing, and preparedness in airports across the globe are crucial.
Digital signage, delivered on platforms like PADS4, offer the ideal medium to communicate those standards. Social Safety Signage, powered by PADS4 FIDS informs passenger on rules and safety measures, and prevents exposing staff and passengers to unnecessary risks. It gives the ability to detect policy breaches and alarming conditions, and to react with real-time updates.
Inform passengers and staff
As people begin to crowd airports, it becomes critical to implement digital signage offering real-time information and updates. Airports face numerous challenges in that communication must:
Update to reflect safety standards required by specific airlines
Offer real-time queue and flight information to prevent crowding
Update passengers in real-time to share available spaces, to redirect passengers around crowds, or to alert passengers to off-boarding passengers from a plane
Track crowds in individual spaces including duty-free shops and eateries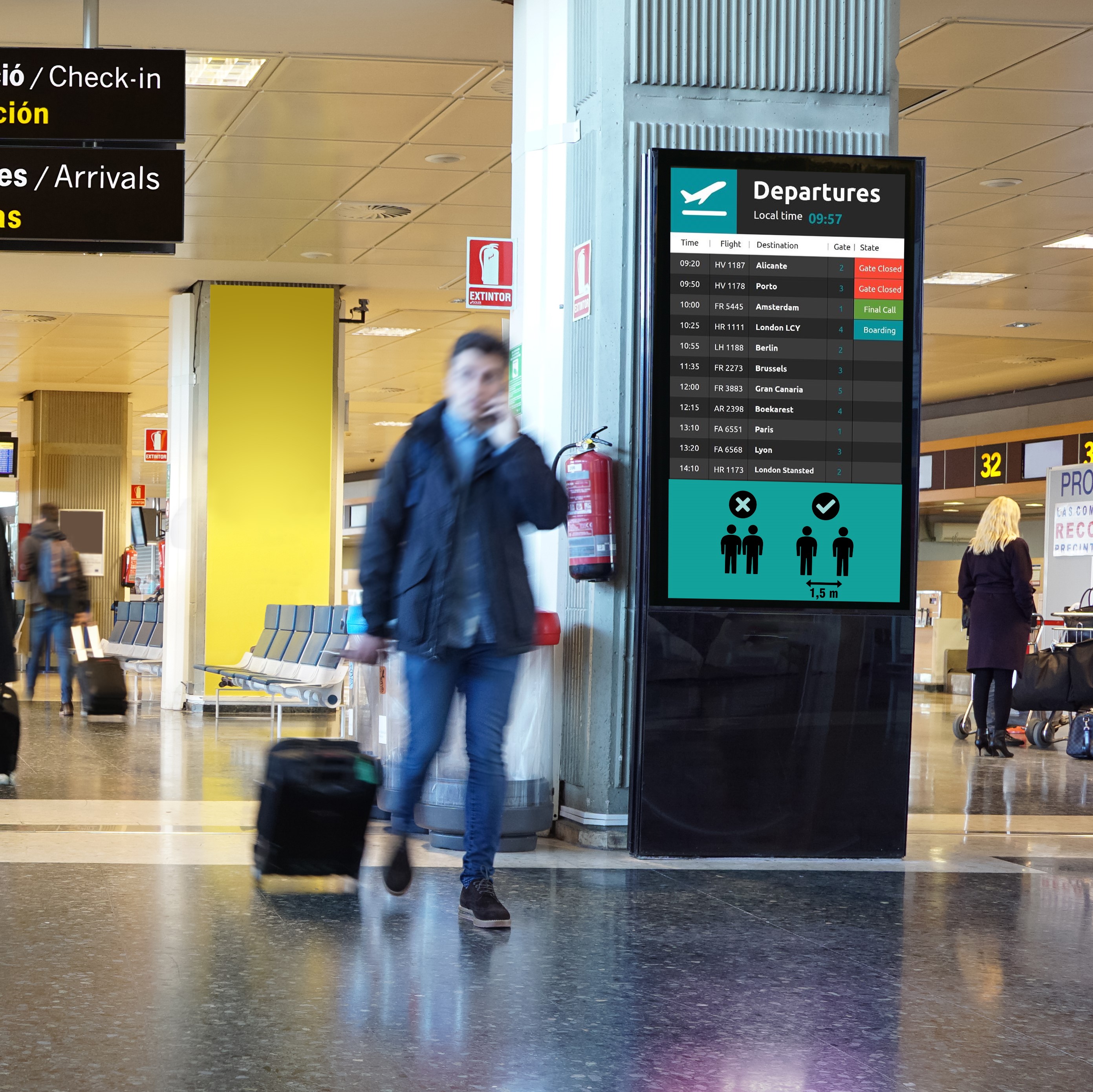 PADS4 Social Safety Signage offers this and more, with a digital signage platform that directly connects to FIDS and AODB, plus motion sensors, to offer real-time flight information, queue management information, and traffic management. Displays can cycle between flight information, COVID-19 safety precautions for social distancing and hand-washing, and live traffic and queue line length times so passengers stay informed.
Prevent unnecessary risks
Digital signage offers an easy way to instantly alert passengers when, where, and how to move to prevent risks. PADS4 links data from motion sensors and cameras to automated, context-driven rules. This means displays can automatically update to:
Ask passengers to wait when rooms or stores are crowded
Manage boarding processes with real-time updates to keep passengers safe
Remind passengers to wear masks when necessary
Alert passengers of hand-washing or sanitizing protocols at trash and bathroom areas
Remind passengers of digital and paperless boarding or self-check-in options to reduce contact and risks
Alert passengers when room or elevator capacity is too high and safety precautions are not adhered to
Offer local control to airports, shops, and eateries to share capacity in real-time, share organizational safety regulations, and keep passengers informed of security processes, health checks, and tests
PADS4 also links to booking tools and menus, so passengers can book lounge areas, pre-order food, or book flights or baggage to reduce contact with staff, should your airport offer touchscreens or self-help kiosks. And, with up and coming technologies like IATA – One ID, PADS4 installations could easily be transformed to allow document-free airport travel, further improving safety.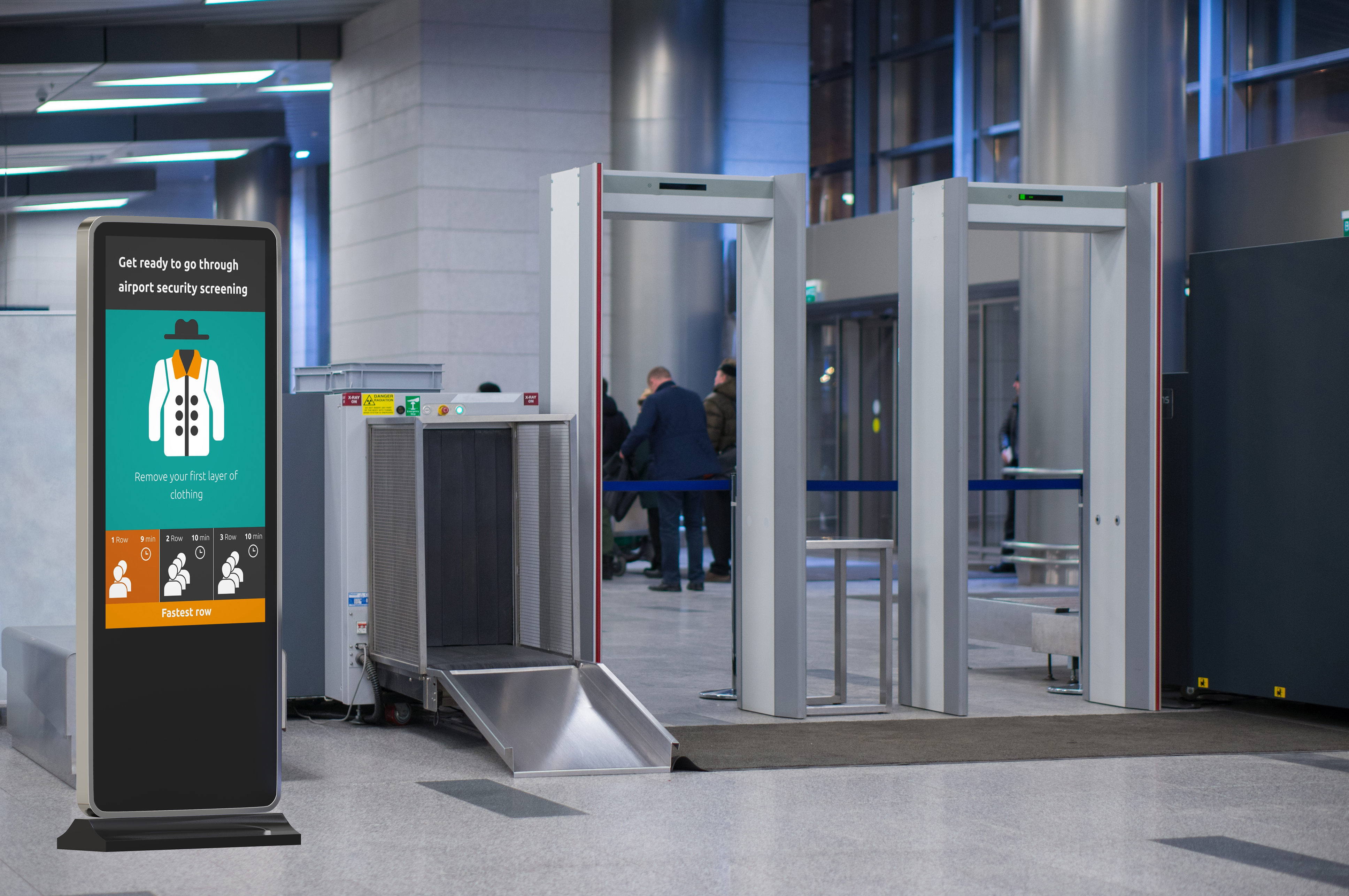 Detect policy breaches
Masks, temperature checks, and maximum crowd density are just a few of the most common COVID-19 safety policies in place in most airports. Most of these can be automatically detected using technology like IP cameras and sensors like thermal cameras, combined with algorithms, to keep staff and security aware of safety and to generate compliance and reporting.
PADS4 allows you to push data like heat maps, mask recognition, and crowd density right to security operation centers and to digital displays across the airport, so the right people can react as quickly as possible.
React and resolve breaches
Immediately respond to policy breaches and problems with real-time updates pushed across the airport. PADS4 can automatically display warnings and reminders to passengers when crowd density is too high, people aren't wearing masks, or individuals are flagged as having a fever. PADS4 also integrates with desktops and other devices to automatically push data to key people, so security can stay on top of situations, without increasing their own risk.
People will always travel, it's up to us to keep them safer. We're here to help. It's easier than ever to keep people informed, with Social Safety Signage powered by the PADS4 Platform to share real-time updates from many data sources across your digital displays.
Are you interested in getting your airport safer with digital signage? Please get in touch and we are happy to tell about the possibilities of PADS4.