Disrupting airport shopping with smart digital signage
Client: Nuance/Dufry group
Project: advertisement
Category: Smart Airport Signage
Nuance integrated PADS4 and digital signage to create engagement and disruption in 25 duty-free airport shops, boosting sales and customer experience.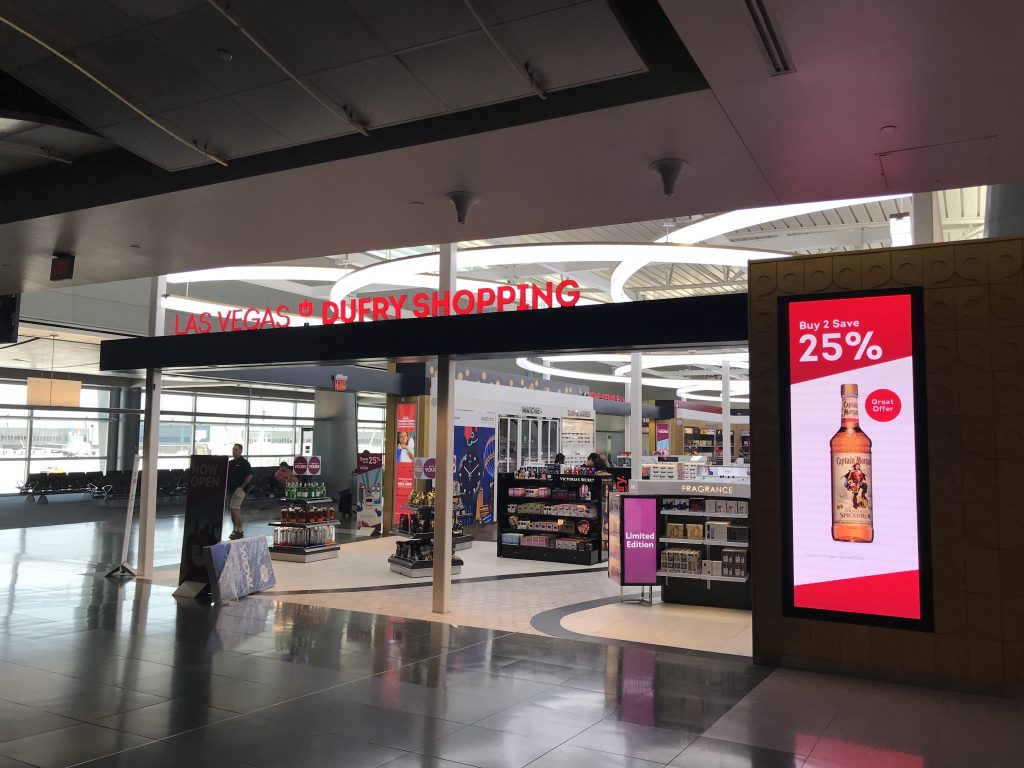 Improving the customer experience
Nuance, a Dufry Group brand, is one of the oldest travel retail chains, with duty-and-tax-free shops, brand boutiques, and concept stores across the globe. The company offers high-end duty and tax-free shopping in airports, where customers are often busy, distracted, and not always interested in shopping. Nuance wanted to redefine their customer experience, switching focus to clear presentation, improved orientation, better product presentation, and using the latest technology to help customers identify and choose products.
CHOOSING SMART SOLUTIONS
As part of that solution, Nuance integrated video walls into 25 of their duty-free shops. Large screen displays now engage customers in airports across the globe, including a 14-screen video wall at the Las Vegas McCarran Airport, and 4 video walls and 9 screens at the Toronto Airport. PADS4 also drives the signage platform in the duty- and tax-free shops in Zurich Airport, Antalya Airport and St. Petersburg Pulkovo Airport.
Nuance paired their video walls and screens with PADS4 from NDS, software already used in airports to display flight data. PADS4 offers real-time data integration, support for multiple media types including text, video, photo, live video, and more, logic display prioritization, and easy-to-use control and management for scheduling and prioritizing ads across shops.
"PADS4 is simple to work with. We can easily schedule, control and prioritize multiple videos. The flexibility of the whole package and the performance of the software really live up to the promise."

–Jassi Kaur, Technical Services Manager North America at Dufry –
DATA MANAGEMENT DELIVERS VALUE
Today, PADS4 delivers promotion and engagement inside Nuance shops, using display ads, vendor videos, and product information across a mix of 3×3 video walls and in-store displays. Nuance uses the screens to draw attention, bring customers into the store, and improve customer experience by offering product information and entertainment. Store managers can use PADS4 to upload individual display ads and media to each screen, auto-upload and synchronize media across screens, and schedule play-time for media to create a smooth customer experience. PADS4 makes it easy to run monthly and weekly promotions, integrate real-time data like weather alerts to automatically update ads, and update all displays in real time to ensure that information is always relevant and engaging.