Billund Airport
Client: Billund Airport
Project: flight and passenger information, advertisement & wayfinding
Category: FIDS
Billund Airport , Denmark's second largest airport has selected PADS4 to improve their passenger experience. Located near the famous Legoland, nearly 3.8 million passengers per year are traveling through or from Billund Airport.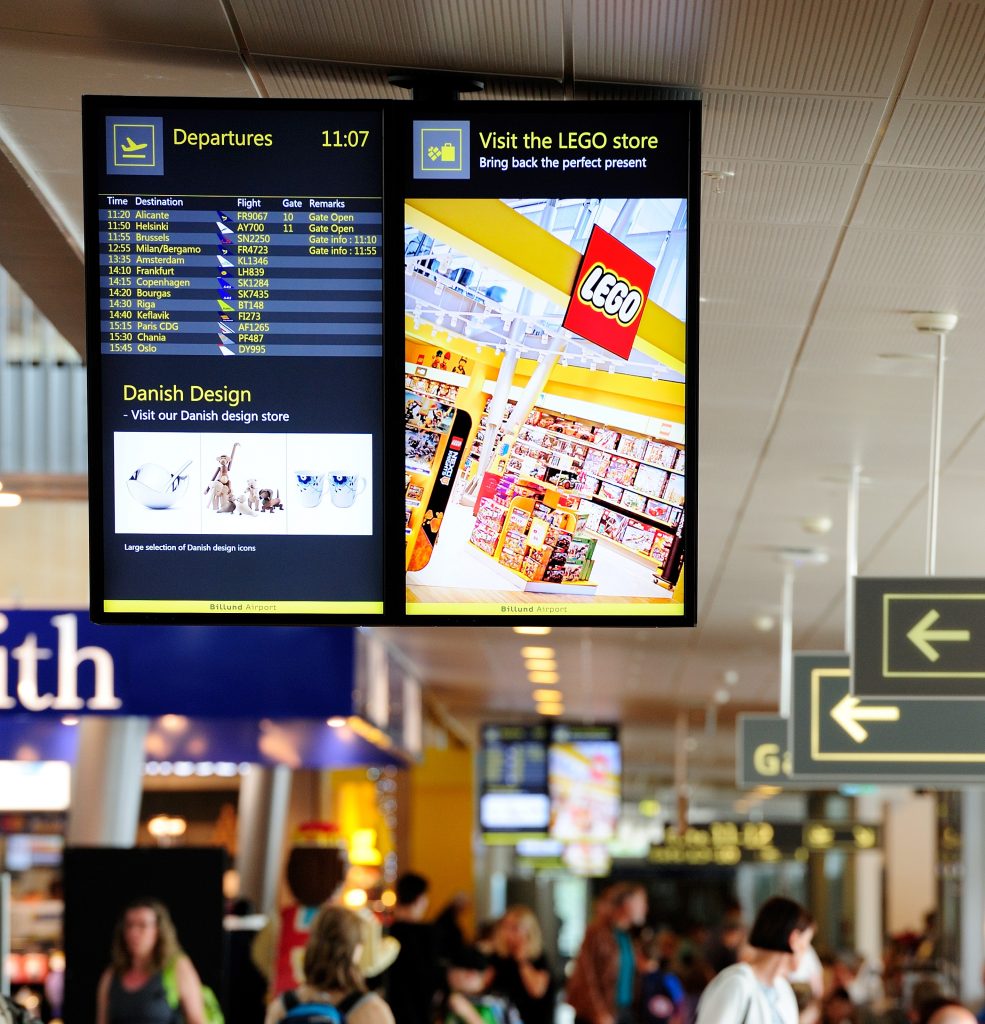 Avoid the negative impact of an outdated FIDS solution
The challenge for the airport was to replace the ageing system that was more than 10 years old. The outdated FIDS solution had negative impact on the passenger experience. To make sure the new FIDS software was future-proof and easily managed they needed a data-driven and fully automated solution to provide the right messages at the right time, on the right location and to the right person. To meet those needs Billund Airport has chosen for the Smart Airport Signage solutions powered by PADS4 digital signage software. The new system includes FIDS, wayfinding and advertising throughout the entire airport.
Passenger experience 2.0, meet the new design
Still using outdated and small screens which could only show old-fashioned content wasn't in line with the new design of Billund Airport. Therefore, Billund Airport has selected PADS4, which is now running on 175 NEC screens with a hardware combination of OPS players and Windows based PC's. Having a centrally based system makes it easy to quickly distribute and manage the information to all the screens around the entire airport. Moreover, it minimizes the chance of technical errors, which is very important to keep the passengers flow fully optimized. Next to new digital signage software Billund Airport also invested in effective and compelling content to improve the passenger experience.
''PADS4 is a very flexible and a stable solution for a FIDS set-up''

– Martin Hjort Nielsen –
Quick adaptation leads to Smart Airport Signage solution
After in-depth training by NDS, the Cross Channel department of Billund Airport was able to fully implement and develop the set-up of PADS4 themselves. They have implemented data-driven sources, which ensure that no manual adjustments are necessary anymore. Some examples of these sources are the flight data source from SKY, a weather forecast source and a flight radar source to keep the guests as up-to-date as possible.
According to Martin Hjort Nielsen, Cross Channel Manager at Billund Airport, PADS4 is a very flexible- and a stable solution for their FIDS set-up. When dealing with airport information and flight schedules, it is very important to have a stable digital signage system. Next to successfully integrating flight information, wayfinding and commercial content with PADS4, the audio calls reduced and the dwell times are optimized. This all has led to a very positive feedback of both airport staff and guests, and most of all a smooth running digital signage system.