Airport Podgorica
Client: Airport Podgorica
Project: Passenger information and Wayfinding
Category: Smart Airport Signage
Airport Podgorica integrated PADS4 and FIDS to update their existing digital signage and include new features.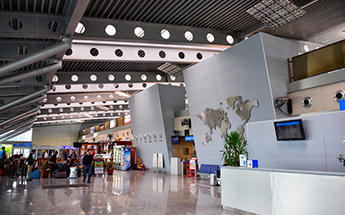 Offering Airport Podgorica an easy-to-use, future-proof digital signage solution
Airport Podgorica, the international airport in Montenegro located in the heart of the country, had been using PADS4 for many years already. With a PADS4 installation and Flight Information Display System (FIDS) installed in 2005, it was time for an upgrade. The outdated system was causing problems that needed a solution. The timing could not have been more perfect. Fifth Screen, our PADS4 reseller from Serbia, was able to easily replace the outdated system with the newest PADS4 installation, combined with the PADS4 FIDS Operator. With the FIDS software from NDS, Airport Podgorica could share and manage all the information needed across the displays on their airport. It gives them a full service solution for all airport signage.
Updating an outdated system
For the past 14 years, Airport Podgorica combined PADS4 with a third party FIDS solution. The outdated combination of the two started causing some problems; it became difficult to keep their flight database up to date, a crucial factor for one of the fastest growing airports in the region of Montenegro. With 12 airlines operating around 10 to 15 flights per day, the PADS4 FIDS Operator is the perfect software for Podgorica Airport to manage all their flight information.
With the PADS4 FIDS Operator software the airport now has the tools to support IATA and ICAO standards, real-time data sharing and context-based rules for sharing live-data. Also included are easy design and management tools to help build and share their timetables and FIDS layouts. Not only do they use the PADS4 FIDS Operator to create flight schedules, check-in desks, gates, and baggage belts are all managed in the Operator as well.
Besides the problems they faced that needed to be solved, they also wanted to introduce some new features to their upgrades. Different user roles and permissions, displaying variable data, and easy translations were only a few of the requested features.
PADS4 allows different user rights
Airport Podgorica did not only continue working with PADS4 because of the great experience they already had. The newest version of PADS4 also offered them the features they required. Airport Podgorica only needed one digital signage administrator, who would be allowed full access to FIDS. Other users still had to be able to make specific changes, but only to gate and check-in information. Another benefit that the PADS4 FIDS Operator gave them, was the ability to not only manage all of their 25 screens locally, but also centrally. This makes managing content on their digital signage network that includes Samsung and Lenovo screens easy.
Viewer variables lower the workload
With PADS4 Viewer Variables the airport managed to make gates and check-in communication effortless and user-friendly. PADS4 Viewer Variables gave Podgorica Airport the opportunity to create one presentation, suitable for multiple screens, based on dynamic filtering. For example, the screens located at the gate all have the same lay-out, but the data displayed on them are always different. Knowing which data is variable, saved them time and money.
Quick response to any emergency situation
When it comes to airport, responding to emergency situation is of the highest importance. With Excel as a simple data provider, Airport Podgorica can respond to any emergency situation within seconds. PADS4 can display all different kind of alert messages on all screens or on only a number of screens instantly, creating a safe environment for passengers.
Added value for the airport
PADS4 in combination with the PADS4 FIDS Operator gave them a new and fresh look on their flight information displays, which pairs perfectly with the promotional content Podgorica wants to display. They now have a stable digital signage solution and added possibilities; from the Viewer Variables feature to being able to sell advertising space, and the possibility to easily translate all information to both English and Montenegrin. Having been a satisfied PADS4 user for a long time, they knew from experience that PADS4 gave them a valuable solution they could count on.